Quante volte, dopo aver scelto nei minimi dettagli il look, restiamo a guardare la nostra scarpiera nell'attesa di decidere su quale delle nostre – innumerevoli – scarpe cadrà il nostro occhio? E quante volte vorremmo un tacco ma non vogliamo rinunciare alla comodità? Sono nati così svariati modelli di sneakers "rialzate", che nascondono nella suola un piccolo segreto che varia dai 5 ai 7 centimetri!
How many times, after choosing all the small details of a look, we stay stranded looking at our shoeracks. We stand, waiting to choose which ones among our  – unimaginably huge – collection will be the ones catching our eye? And how many times did we want heels but weren't ready to lose all the comfort? That was the idea behind wedged sneakers, hiding a little secret in the sole that can give us up to 5-7 cm!
Modelli, colori e dettagli diversi, l'idea geniale è stata declinata su varie calzature. Confortevoli nella calzata, di qualità nei materiali, anche Olo Fashion si affaccia su questo mercato, con una sneakers perfetta, ideale per chi non vuole scegliere! Sulla parte esterna infatti troviamo il disegno che rende speciale la calzatura! Che ne dite? Vi piace?
Models, colors and different details, the wonderful idea was shaped in many forms. Comfortable when worn, made of high quality materials, Olo Fashion is making it's way into the market too. This sneakers are perfect, ideal to those who don't want to choose! On the outer part there's the design making these shoes speciale! What do you think? Do you like them?
Laura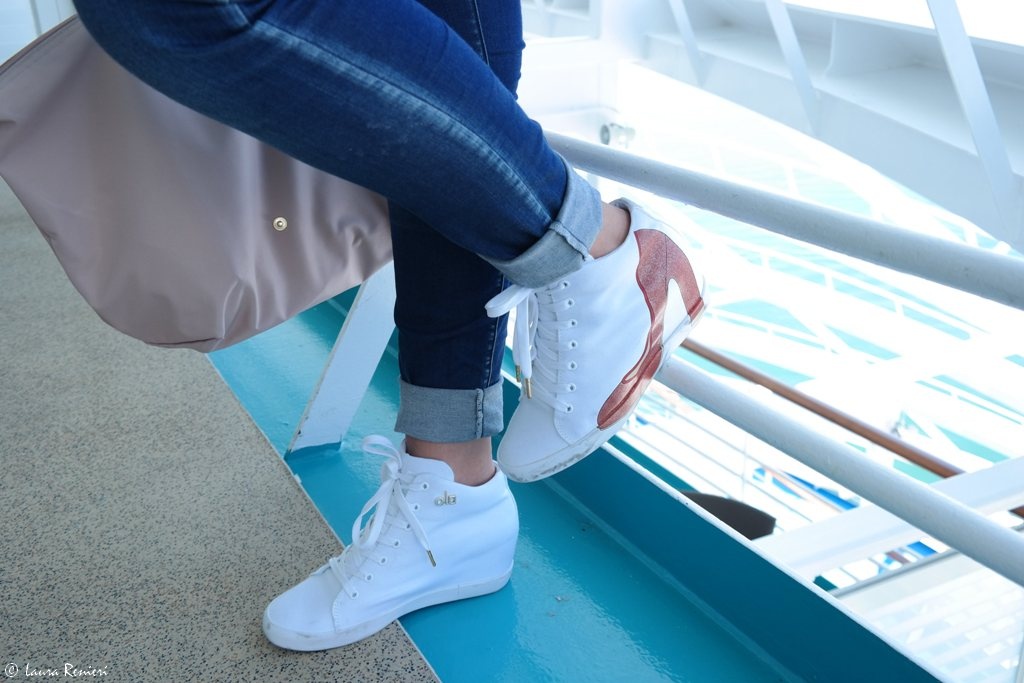 I was wearing
Shirt Zara
Jeans Gas POP UP Edition
Bag Longchamp
Bracelet Angela Caputi
Bracelet Marc Jacobs
Bracelet bought in Excelsior
Watch Casio
Shoes OloFashion (available here)
Sunglasses Wayfarer Polarized by Ray-Ban
Fotografie & Traduzione
Giulia – www.giuliangolini.com
Hair & Make up
 Mascara L'Oreal collezione Cannes, Nail polish Chanel Rouge Noire
Si ricorda, a titolo puramente informativo, che non è stato usato photoshop!! Grazie!