Spring often means the desire to wear color, so it was unexpected for me to come up with a total white look. But it happened, for an exclusive event in Bologna on April 13th: Sensation White! Dress code was strictly total white and it was an occasion to experiment with creativity on the theme of a one-color palette! So then came the idea for the look I want to show you today, where I'm wearing a dress from the new Desigual collection paired with a Zara coat I purchased in Madrid a few weeks back
La primavera ci fa venire il desiderio del colore, e mai avrei immaginato di dover pensare ad un outfit in total white. Invece è successo, per un evento esclusivo svoltosi a Bologna il 13 aprile: il Sensation White! Il dress code era blindato sul bianco ed è stata un'occasione per mettere in gioco la creatività utilizzando un solo colore! Da lì è nata poi l'ispirazione per il look che vi voglio mostrare oggi, dove indosso un abito della nuova collezione di Desigual abbinato ad un cappotto di pelle di Zara, comprato a Madrid qualche settimana prima
Real diva sunglasses and a big cross-body bag I really should wear more often! Earrings (H&M) and necklace (Mango) sparkle up the outfit, while at my feet you can see the super tall Miu Miu's. A really simple look when it comes to color, but I think it would be perfect for several different occasions, whether if they're mundane or not!
Occhiali da sole da vera diva ed una borsa capiente con tracolla che uso decisamente troppo poco! Ad illuminare l'outfit orecchini (H&M) e collana (Mango) ed ai piedi le Miu Miu, decisamente altissime. Un outfit dal tono semplice nelle nuance ma che trovo perfetto e sofisticato per una serie di occasioni, mondane e non!
Laura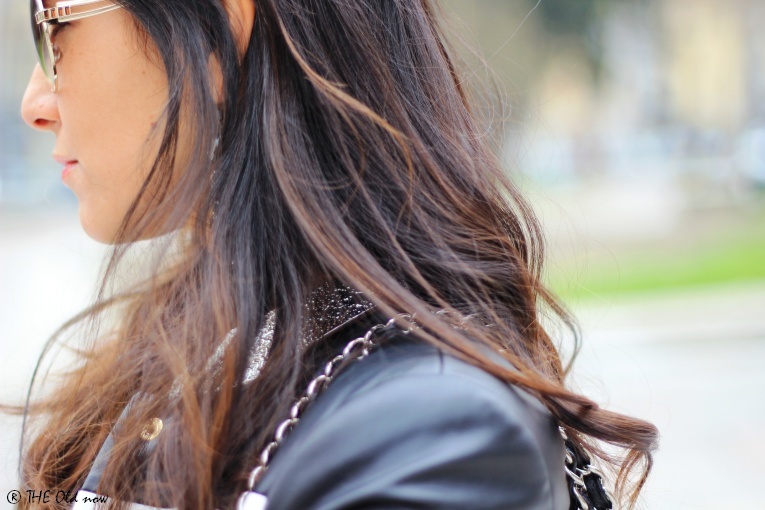 I was wearing
Coat Zara
Dress Desigual (Available here)
Shoes Miu Miu
Clock Casio
Necklace Mango
Earrings H&M
Sunglasses Jimmy Choo
Bag Chanel
Fotografie
 Traduzione
Giulia – www.giuliaangolini.com
Hair & Make up
 Mascara L'Oreal collezione Cannes, Nail polish Chanel Rouge Noire
Hair made by Luciano Colombo, corso Magenta n. 66, Milano
Si ricorda, a titolo puramente informativo, che non è stato usato photoshop!! Grazie!