Florence is a piece of heart: since last year we made the promise to come back and visit it at least once a year. So here we are, experiencing the heart of the Renaissance, the pulsating soul of Tuscany, as well as one of the most beautiful cities of Italy. We had the chance to enjoy our family trip staying at one of the most beautiful and elegant hotels of the city: the Brunelleschi Hotel, located just a few steps away from the Cathedral.
Staying at the Brunelleschi Hotel in Florence is a real unique experience that allows you to dive into the heart of Florence while discovering its historic roots. This hotel indeed is named after Filippo Brunelleschi, a fine artist and author of the dome of Santa Maria del Fiore. A place where history melts with beauty, just think of the Pagliazza Tower, (541-544 d.C.) a unique building in the whole city, as well as symbol of the hotel, which represents one of the most remote buildings within the city walls.
Moreover, the Brunelleschi hotel was recently renovated in order to become even more welcoming and comfortable, respecting and enhancing the ancient and fascinating original structure of the building. Here past and present become one thing, turning this hotel into the perfect place for your Florence days.
Everything is walking distance from the hotel: the city center, the Cathedral, the shops, the famous carousel that Gaia and Giada love sooo much, all the yummiest restaurants, and all the history that this beautiful city has to offer.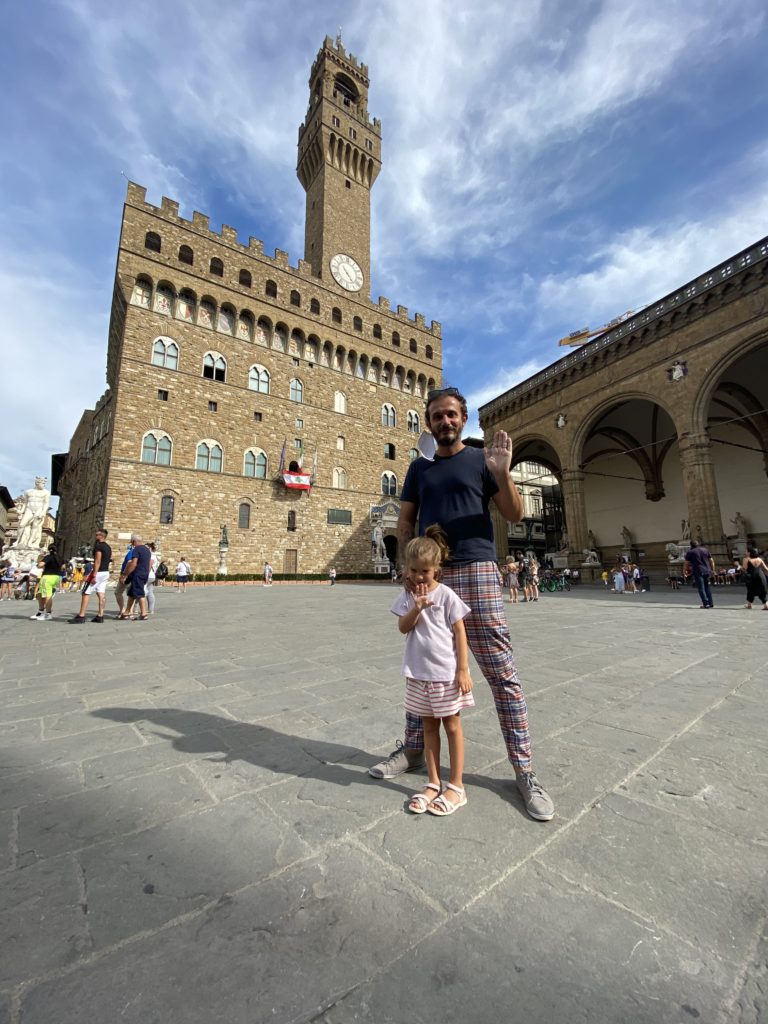 Just like every time we come back to Florence, we decided to spend our time walking through this amazing city, getting lost amongst its buildings and unique architectures. And every time we discover the city we are as surprised as if it was the very first one.
I would love to recommend you two amazing restaurants for your perfect weekend in Florence. If you are looking for a real Florentine steak you should definitely head to the 13 Gobbi restaurant. If you are feeling more like trying a mix of ancient cultures, traditions, and different styles, the Floret restaurant, located on the last floor of Luisa Via Roma, deserves a visit.