Located just one hour away from Milan and its chaotic lifestyle, there is a place that seems to be suspended in time. A rustic villa that belonged to the Caccia Family, descendant of Francesco Caccio whom became the owner of Sillavengo upon the approval of the Duke of Milan Gian Galeazzo Sforza on the 10th of April 1483.
The architecture of the Villa Caccia complex is similar to the shape of a E overlooking towards the countryside. The structured facade of the castle twins and turns on the road. The noble section of the Villa hosts halls with partially restored painting decorations featuring family affairs, such as the coat of arms hall, a lounge with a Vicenza soft stone fireplace characterized by the emblem of the Caccia family. 
A part of the villa had a rustic structure with a floor under the road which, until a few decades back, constituted the cellar of the house. Towards the countryside there is a wrought-iron gate enclosing an Italian-style garden and representing a second entrance to the villa.

Today Al Castello is a Hotel and Restaurant that keeps alive that same charme of 1400, offering a wide choice that embraces the needs of an increasingly curious and demanding audience. Relax and tranquility are the main characteristic of this resort featuring a large and beautiful solarium pool, thermal baths, and spa treatments in such a charming place where nature and history blend together creating a perfectly balanced mix.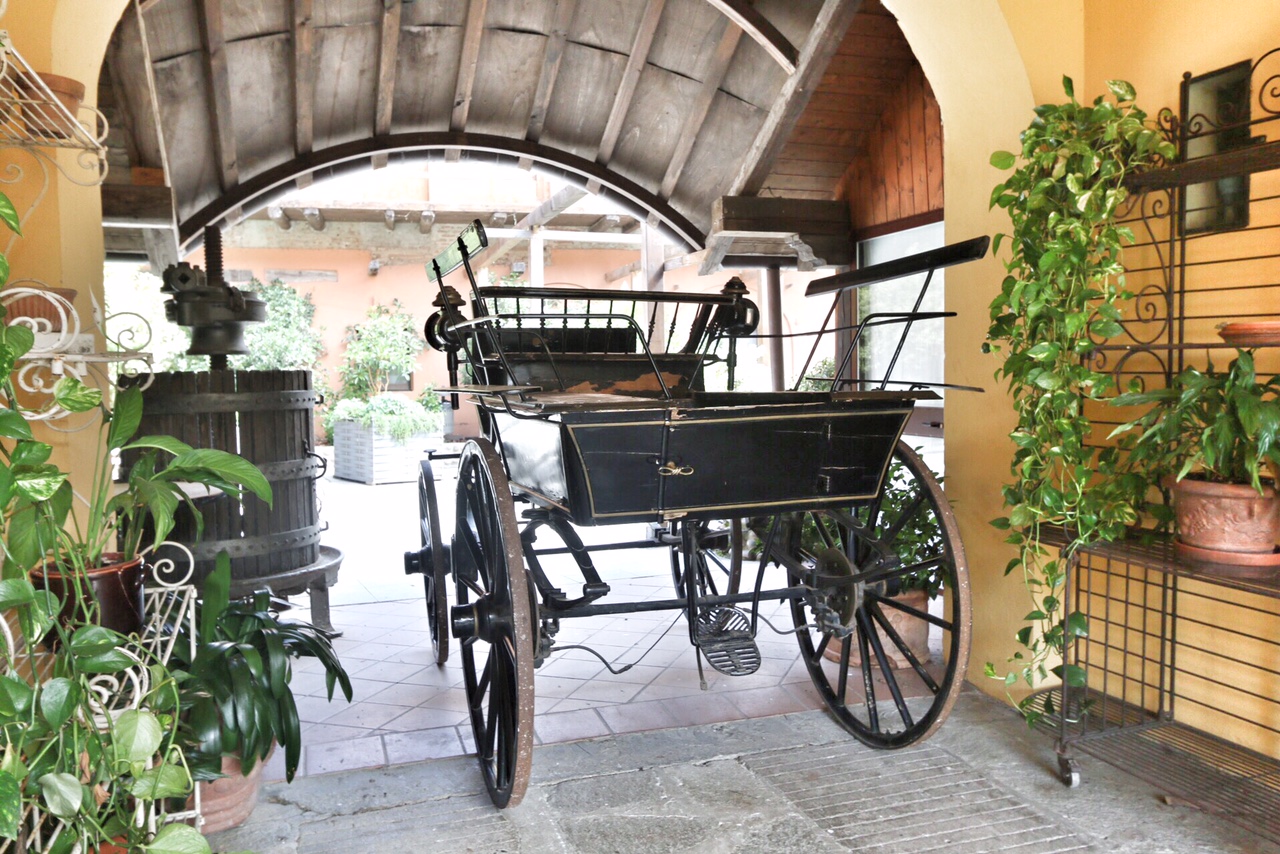 Last but not least, food here is celebrated within the frame of a restaurant specialized in surprising its clientele. Chef Maurizio D'Andretta has carried out an accurate search, shaping two different menus, one dedicated to meat-based dished and one dedicated to fish-based dishes. In both cases the secret to its success is the use of excellent raw ingredients, featuring seasonal and contemporary flavors. These emotional menus change constantly, according to the inspiration of the chef. 
We had the opportunity to dine within this enchanted frame twice.
On the first night we have opted for a a la carte menu, while on the second time we have tried the 10 course menu proposed by Ched D'Andretta. Below there are the pictures of the main courses; I hope that you will be able to enjoy at least their beauty, because unfortunately I can't share their yumminess. However, you can see how the accurate selection of each of these courses show an incredible love for raw materials and a mix of different cooking techniques. You should definitely try this place!
 Scallops avocado rice & wasabi
Black carnaroli rice, gorgonzola cheese, red shrimps & white grapefruit
Fish fry, lemon & endive
White chocolate, pistachio, capers, and plum
Cucumber cream, Mazzara del Vallo shrimps, lemon, bufala stracciatella, olive crumble
Scapece octopus, beetroot, and robiola from Roccaverano
Quail, sesame and turnip
Smoked potatoes Tortelli, shrimps and cocoa 
Large Spaghetti with zucchini cream, clams, zucchini and squash blossom 
Paccheri with fennel pesto, crunchy pork belly, and fresh almonds

Red mullet, shrimps bisque and seasonal vegetables
Coconut