L'argomento che voglio trattare oggi è un po' trasversale, perché sto parlando dei People's Choice Awards 2012, che si sono svolti mercoledì scorso negli USA. Infatti, oltre a premiare cantanti, film e altri successi del 2011, i PCA hanno delle categorie legate ai telefilm. Ma, quando si parla di un evento così importante, non si può prescindere da qualche commento legato agli abiti delle vincitrici
Ecco le serie tv e gli attori premiati ai People's Choice Awards 2012

Favorite Network Tv Drama: Supernatural. Si tratta di un telefilm che, in tutta sincerità, non ho mai guardato, ma che prenderò in considerazione. Soprattutto perché ha battuto serie tv come Grey's Anatomy, Dr House e The Vampire Diaries, che consideravo favorite.
Favorite Tv Drama Actor: Nathan Fillion (Castle). Ancora una volta un risultato che non mi aspettavo. Oltre a lui gareggiavano Ian Somerhalder (Vampire Diaries), David Boreanaz (Bones), Patrick Dempsey (Grey's Anatomy) e Hugh Laurie (Dr House). Il mio voto? A Ian Somerhalder.
Piccolo appunto da fare sulle due splendide presentatrici e ai loro abiti: Ginnifer Goodwin in Roksanda Ilincic e Jennifer Morrison in Oscar de la Renta (entrambe attrici in Once Upon a Time)
Favorite Tv Drama Actress: Nina Dobrev (The Vampire Diaries). Vi avevo detto quanto mi piace quest'attrice nel post dedicato a TVD. Ha compiuto 23 anni qualche giorno fa e ha chiesto come unico regalo il suo primo People's Choice Award: è stata accontentata. Un risultato comunque non scontato, dato che gareggiava contro Blake Lively (Gossip Girl), Ellen Pompeo (Grey's Anatomy), Emily Deschanel (Bones) ed Eva Longoria (Desperate Housewive's). Tifavo per lei, ma credevo fosse più quotata Blake Lively
Abito: Nina Dobrev ha indossato un abito verde  con dettagli in pizzo Elie Saab e sandali nude dello stesso stilista
Favorite Cable Drama: Pretty Little Liars. Ottimo risultato per un telefilm alla seconda stagione, partito solo un anno e mezzo fa. Soprattutto se batte Dexter, Game of Thrones, True Blood e White Collar. Il mio favorito? True Blood.
Hanno ritirato il premio Lucy Hale, Shay Mitchell e Ashley Benson. Menzione speciale per Lucy Hale, che ha indossato uno splendido abito Cengiz Abazoglu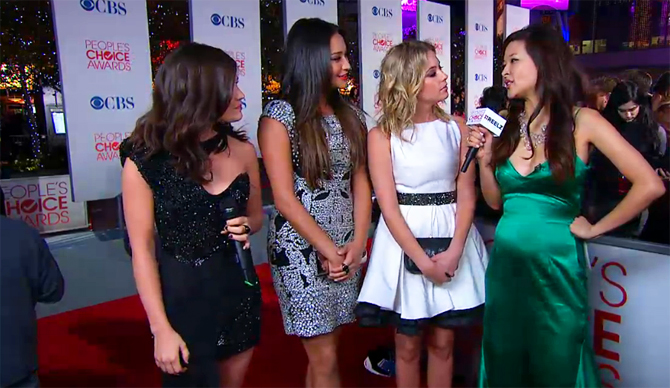 Favorite Network Tv Comedy: How I Met Your Mother. Niente da dire, un successo meritato. Nominati anche The Big Bang Theory, Glee, Modern Family e Two and Half Men.
Favorite Tv Comedy Actor: Neil Patrick Harris (How I Met Your Mother). Ha vinto contro Alec Baldwin (30 Rock), Chris Colfer (Glee), Cory Monteith (Glee) e Jim Parson (The Big Bang Theory).
Favorite Comedy Actress: Lea Michele (Glee). Anche in questo caso non mi stupisco del risultato. Nominations: Courteney Cox (Cougar Town), Kaley Cuoco (The Big Bang Theory), Tina Fey (30 Rock) e Jane Lynch (Glee).
Abito: Lea Michele ha scelto un abito bianco con frange Marchesa e sandali glitterati Jimmy Choo.
Favorite Cable Tv Comedy: Hot in Cleveland. Altre nominations: It's Always Sunny in Philadelphia, Nurse Jackie, Royal Pains e Weeds.
Favorite Tv Crime Drama: Castle. Battendo Bones (il mio favorito), Criminal Minds, CSI e NCIS.
Favorite SCI-FI/Fantasty show: Supernatural. Anche in questo caso Supernatural batte The Vampire Diaries e altri telefilm quotati come Fringe, True Blood e The Walking Dead.
Favorite New Tv Drama: Person of Interest. Tra le cinque nominations è uno dei due telefilm che non ho ancora iniziato a guardare, insieme a Terra Nova. Gli altri nominati sono Once Upon a Time, Revenge e The Secret Circle.
Favorite New Tv Comedy: 2 Broke Girls. Nominations: Last Man Standing, New Girl, Suburgatory e Up All Night.
Infine, è stata premiata anche la guest star preferita e ha vinto Katy Perry (How I Met Your Mother), che però non ha presenziato ai PCA. Contro di lei Gwyneth Paltrow in Glee, Jim Carrey in The Office, Kristin Chenoweth in Glee e Michael J. Fox in The Good Wife
Articolo scritto e redatto da Loretta Fossati | Tutti i diritti sono riservati