Every time I come back home from a journey abroad I feel contrasting emotions: on the one hand I am happy to be back to my shelter, to my sense of safety, to my habits, and to the people I love. On the other hand, though, I am overwhelmed by a feeling of nostalgia. I think about the places that I have visited and about the people I have met; I think about their culture and about the way they live.
Lately, every time I experience a "significant journey abroad" I also experience a strong sense of belonging to the place I have visited, and Nepal is included in the list.
I think about a journey that I took many years ago, when I had the opportunity to spend some time in India and to visit Kolkata, Bangalore, and Goa: tree different cities that – somehow – managed to shape the essence of India. What did I keep from that experience?  Nothing. Maybe because it happened many years ago, or maybe because I went to India on a holiday mood.
Nepal is not a holiday, but it is rather an experience that leaves a strong mark on your heart and spirit.
For the very first time in my life I have found myself in the shoes of a photographer, and I had to be always ready to catch the moment. This experience allowed me to see clearly the reality around me.
The eyes of the people I have met, the smiles of the children and their cheerful, genuine, and radiant nature thought me a lesson that I will always carry on my path; from the necklace seller to the little girl with a pen, to the Buddhist monk; every person I have met, every picture I have taken tells a story, and I will try to share it with you.
Two weeks in Nepal have been intense because for the very first time I have understood that we are running the risk of missing the real meaning of life; I am talking about us Milanese people who are always way too stressed. I am not saying that all Nepalese people understood the meaning of life – many of them still have many lessons to learn – however, you understand that there is so much to learn when you are surrounded by ruins and everyone – except myself – is happy and smiling. Why? Because they enjoy what they have, and because they are capable of looking forward.
If you are thinking about traveling to Nepal you will soon realize that this country will conquer your heart and your mind, and that you will never forget the eyes and the smiles of the people you have met along your path.
I will share the essence of my journey through my pictures.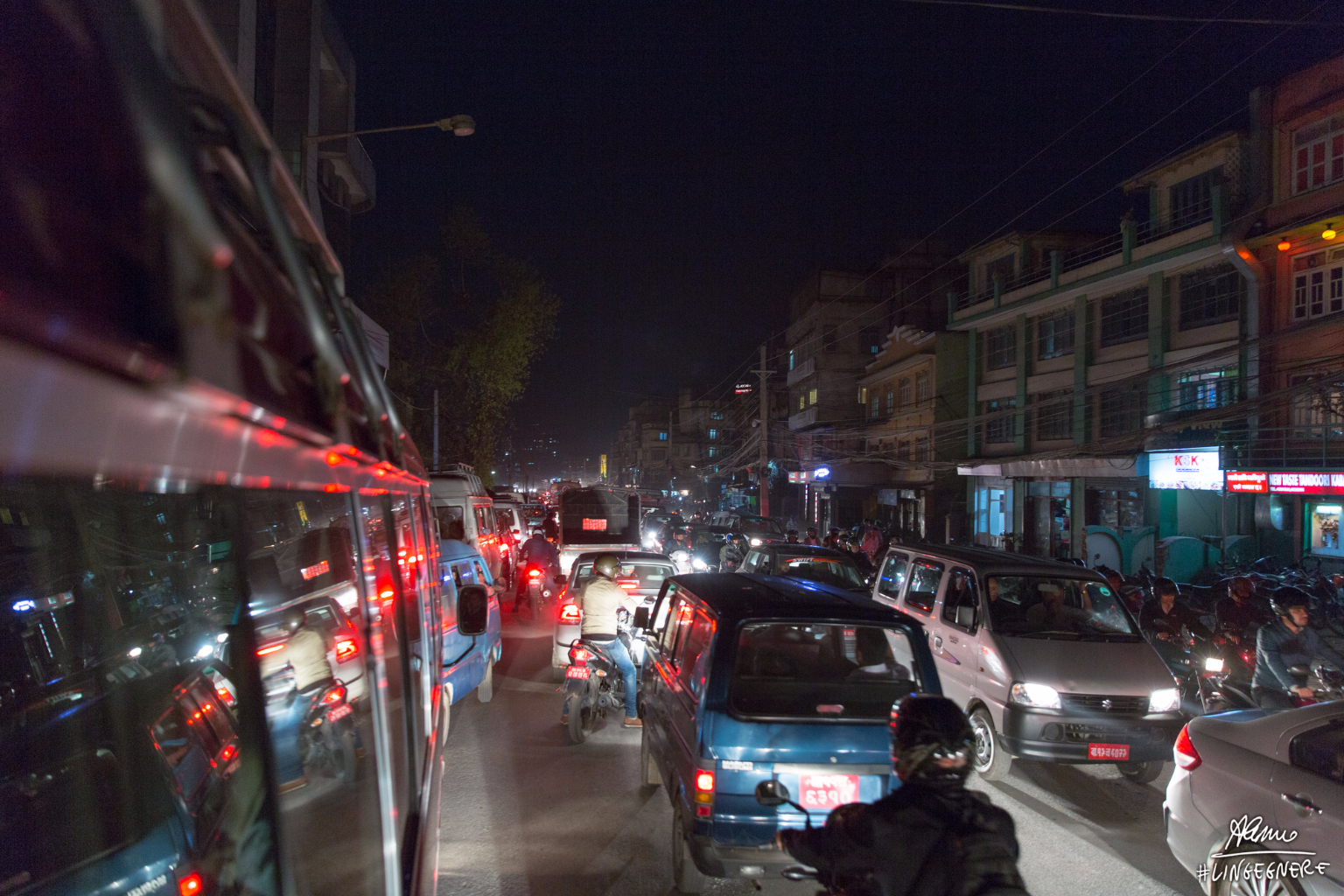 The first contact with the capital city: chaos, traffic, and noise.
A little girl playing in the street in Kathmandu.
A fashion blogger posing for my camera? A farmer's son in the Chitwan National Park.
These children have a special story; they have been following me during my visit to the Chitwan National Park; we have spent a whole day walking across villages to see how local people live. As soon as they saw me with my camera, they run towards me asking me to take a picture of them. It took only a second before the posed with a gentle Namastè.
A young boy receiving the Tika from a Holy Man. The Om symbol is in yellow.
I think that I can describe the experience of traveling across Nepalese streets as a mystic journey; as you can see despite here they drive on the left side (just like in the UK), you can find cars all around you.
When we arrived to the Phewa Lake we were all exhausted due to a virus that had spread throughout our bus and which has literally wiped out half of our crew. Luckily I was feeling good enough to take some pictures along the lake, and to capture the moment when a boatman gathered his boats before night time. I managed to shape a unique picture that shows the stunning colors of Nepal.
In Nepal there are a number of monasteries. Here come two young monks at lunch time.
A moment of spirituality.
Believe it or not, this is the electrical system of the city, and this man is simply checking it. Unfortunately the city has grown very fast without following a precise order. It is easy to people managing electric systems without wearing any type of safety equipment.
This photo was taken in a small village located just a few kilometers away from Kathmandu. I was feeling very touched because I had just visited a village that had been devastated by the earthquake. All of the sudden these kinds run towards us bringing along this wheel, as if it was the funniest thing of the whole world. Their smiles are priceless.
It takes only a few bricks and a rope to play.
I leave you with the kiss of this little girl. I will see you on my next journey.
During my trip I have been wearing technical outfits from The North Face; traveling without wearing technical fabrics would have been very complicated.
All pictures have been taken with a Canon 5DMark III; Lens 24-70 f 2.8 or 70-200 f 2.8
Articolo scritto e redatto da lingegnere | Tutti i diritti sono riservati