The alarm is on. It's sunrise.
Experiencing this type of tours is always a pleasure, however they imply a world made of hectic schedules and commitments. Despite I am aware that I am visiting an amazing place, I always have to remember to myself that I am here to work, therefore waking up very early in the morning and going to sleep late at night is part of my duties.
As the sun shines I have the opportunity to take a closer look at the hostel where I am sleeping. This colonial building is way more traditional than the hotel where we slept in Santa Cruz de Barahona. The experience at Barahona hasn't been particularly good, and carrying our bag up to the forth floor so late at night has been very tiring for all of us.
This is a family hostel – I think that the family has been owning this building for generations and decided to turn it into a hostel. It represents a strategic place for all the those who wish to visit the natural reserves of the area, such as Baia Aguilas,  Sierra de Bahoruco, Laguna de Oviedo, Hoyo de Pelempito. The hostel offers guided tours through local natural reserves. Its rate are convenient, and this hostel is a strategic spot if you find yourself in this area of the island – as long as you are willing to take cold showers.
As we have our breakfast, we observe a group of local students making their way to school. I have a chat with our courier from the Ministry of Tourism (Erick), and I find out that discipline represents one of the main values of modern school; all students wear the same uniform in order to increase discipline and eliminate disparity.
The streets are full of bikes carrying three or four people. I am touched by the kindness of locals who always greet you with their smile. I spend only ten minutes outside the hostel and I get to talk with so many people who are curious to see foreigners during the low season.
Our van is here, and today is going to be a special day as we are only going to enjoy some relax in one of the most beautiful places of the whole island. I highly suggest you to check this place out.
Next Stop: Eco del Mar.
Eco del Mar is a facility located at the entrance of the Jaragua National Park and Bahía de las Águilas. It is definitely worth a visit also because you can actually spend a few nights inside this camping that is provided with the best hotel facilities. Camping tents are used only to sleep, while other facilities – like toilets, showers, and restaurant – are always clean and very convenient. Somehow this structure is way more comfortable and cozy compared to the hotel where we spent the night in Santa Cruz.
We are received by Katherine C., who manages this corner of paradise along with her partner Augusto Aldo Meroni, who is an Italian businessman.
Eco del Mar is the door to Paradise. There are not many other ways to describe this magical place.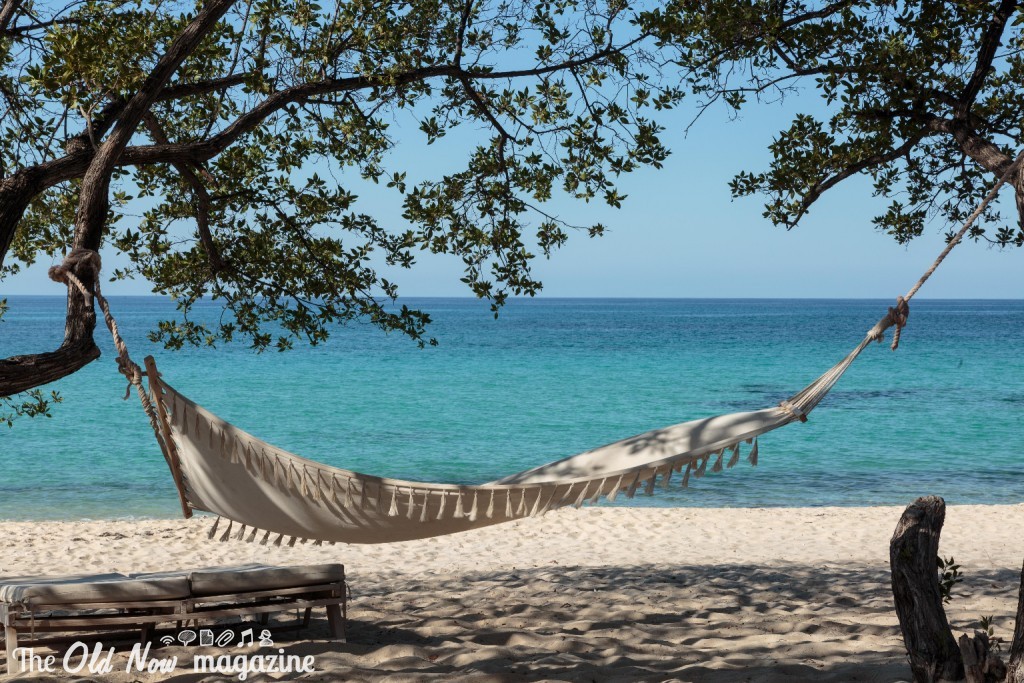 How to get to Eco del Mar
In order to get to Eco del Mar you need to go west, almost as far as to the border with Haiti.
If you have to travel for many hours in order to get to this point of the island, I highly suggest you to travel during the day and to take a rest at night. You can still enjoy the beach the day after, and maybe decide to spend one more day in the area. The thing is easy: this place is worth a visit, and traveling all the way here just to spend a few hours would be a pity.
In order to get to Eco del Mar you need to go towards Cabo Rojo – you will understand that you are hitting the right road the moment you see a number of dirt roads in front of you. Maybe driving a SUV would be better, even if we came all the way here on our van full of people and luggages.
The structure is made of a number of small houses; some of them are kitchens, others are toilets or the reception of this "hotel". The main strength of Eco del Mar is Bahia de las Aguilas.
Bahia de las Aguilas
If you want to get to Bahia de las Aguilas you can use a private boat provided by Eco del Mar; it is a practical twin-engined boat that will take you to one of the most beautiful beaches of the whole world. The beach is simply uncontaminated and it represents the perfect place where you can enjoy some relax. Maybe getting there can sound complicated but it is worth the effort. It is an adventure that leads you to one of the most beautiful natural environment of the planet. We brought with us all the necessary supplies in order to spend a day on the beach (including sealed water). I personally suggest you to take the boat to get to the island rather than to walk all the way here, as the boat ride will give you the opportunity to enjoy a stunning view. Swimming in these crystalline waters and being surrounded by sea stars, balloon fishes, and flying fishes is simply fascinating and it makes you forget about all the efforts you had to face in order to get here.
We spend a few relaxing hours on the beach, and then we go back to our base in order to enjoy a delicious Dominican lunch made of sea food pasta, fish and other local specialities cooked by a very talented chef. We spend the whole afternoon chatting away, taking pictures, dancing, and tasting some rum before we actually realize that it is getting late and that we need to get back to our hostel.
The natural landscape is just stunning. A fiery red sun is bathing into a crystalline ocean; we can't resist and we take some pictures of this beautiful sunset. Once again, I suggest you to stay here until sunset as the Dominican colors that paint the sky are the most beautiful I have ever seen in my whole life.
Il nostro pomeriggio ed il relativo pranzo:
One last tip of advice: do not drive at night. There is not much to say about it; just don't do it. It is dangerous. Driving at night in some remote areas of the Dominican Republic can be complicated because the island is dark and there are many bikes that don't turn their lights on. The problem is not you, but other drivers who may hit you.
We get back to Pedernales at night, but our driver is very talented and everything works fine. We are very tired; we grab a quick bite before going to bed. We feel exhausted but very happy.
Useful Information:
Hostal Doña Chava:
Calle 2da 5, Pedernales 84000, Repubblica Dominicana
Eco del Mar:
Jaragua National Park, Repubblica Dominicana
Articolo scritto e redatto da lingegnere | Tutti i diritti sono riservati