Amo il blu. Non lo nego e nemmeno riesco a nasconderlo. C'è un'amica che mi ha attribuito addirittura il super potere di trasformare in blu qualcosa che è nato di un altro colore! Ma, scherzi a parte, come si fa non amarlo? Intenso, delicato, perfetto sulla pelle abbronzata come sulla carnagione chiara
I love blue. I won't deny it and I can't hide it. There's a friend who told me I have the superpower to turn blue something that was born of another color! Jokes aside, how can you not love blue? Intense, delicate, perfect on tanned as well as porcelain skin.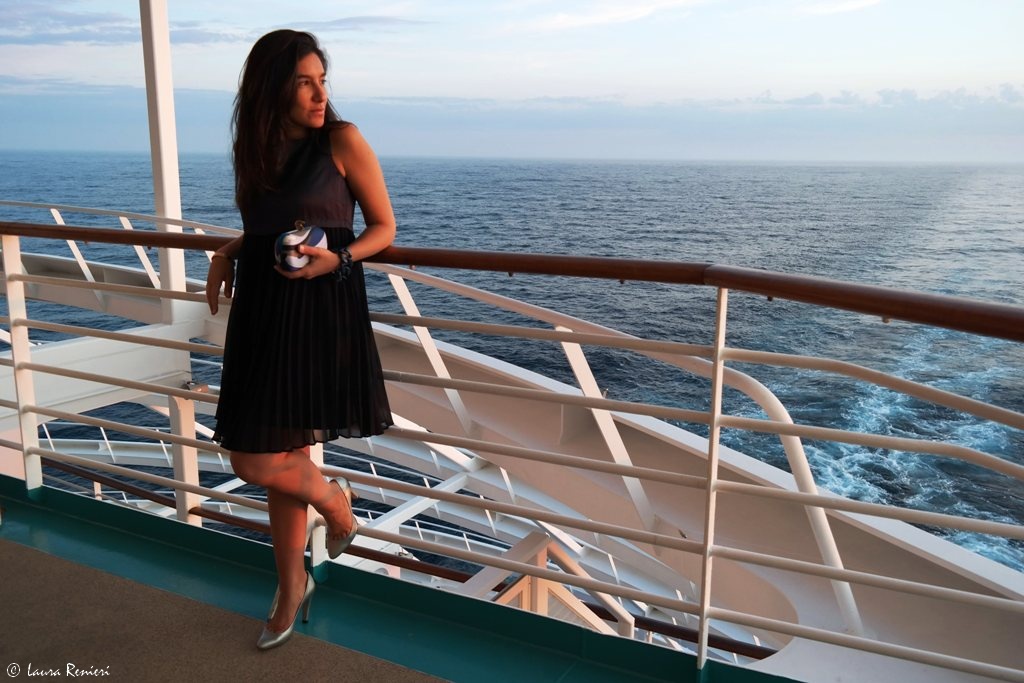 As seen in a satin empire dress, it is true love! Bold accessories, silver for the Marc Jacobs pumps, and a soirée clutch. This was my choice for a dinner onboard Liberty of the Seas. Do you like it?
Declinato poi sul raso per un vestito stile impero è amore puro! Accessori decisi, argento per le decolté firmate Marc Jacobs, ed una pochette prettamente da sera. Questa la mia scelta per una cena a bordo della Liberty of the Seas. Vi piace?
Laura
I was wearing
Dress Max Mara
Bag Pucci
Bracelet Angela Caputi
Bracelet Marc Jacobs
Shoes Marc Jacobs
Fotografie & Traduzione
Giulia – www.giuliangolini.com
Hair & Make up
 Mascara L'Oreal collezione Cannes, Nail polish Chanel Rouge Noire
Si ricorda, a titolo puramente informativo, che non è stato usato photoshop!! Grazie!