I always say that it takes irony to go through life. That one should not take oneself too seriously, otherwise things do get boring! You have to show off a little, but not too much. Not in the style of someone taking a thousand self-portraits -one after another-, nor in the style of someone who's all winks and plastic poses. Come on, let's be serious .. We are normal people, both in real life and on the web. No?
Io lo dico sempre che ci vuole ironia. Non bisogna prendersi troppo sul serio, altrimenti sai che noia?! Bisogna crederci un pochino, ma non troppo. Non da mille autoscatti uno di seguito all'altro, da sguardi ammiccanti e pose plastiche. Dai, cerchiamo di essere serie.. Siamo persone normali, nella vita come sul web. No?
It's raining outside, it's Sunday and I have to leave. I wear leather shoes with comfy heels, microfiber tights (yes, today I'm cold!), a coat in delicate shades signed Giorgia & Johns, a leather skirt -like a real biker- toned down by one of those sweaters that practically scream "good girl ". As I said it's raining outside, and the umbrella becomes my inseparable friend, in sober tones and with an ironic mood going "La mustache c'est chic!", just perfect for a Sunday like this. I loved the pochette on the coat from the very first moment, terribly chic. Finally, a thick coat of Essie, that goes so well with the coat, and let's go, in the rain!
Fuori piove, è domenica e devo uscire. Indosso scarpe di pelle dal tacco comodo, collant di microfibra (sì, oggi ho freddo!), un cappotto dalla nuance delicata firmato Giorgia & Johns, una gonna di pelle da vera biker smorzata da uno di quei maglioncini che fanno tanto "ragazza a modo". Come dicevo fuori piove, e l'ombrello diventa mio inseparabile amico dai toni sobri e mood ironico che recita "La moustache c'est chic!" rendendosi perfetto per una domenica così. Ho adorato la pochette del cappotto dal primo momento, terribilmente chic. Infine una passata abbondante di Essie che richiama il cappotto stesso, e via, sotto la pioggia!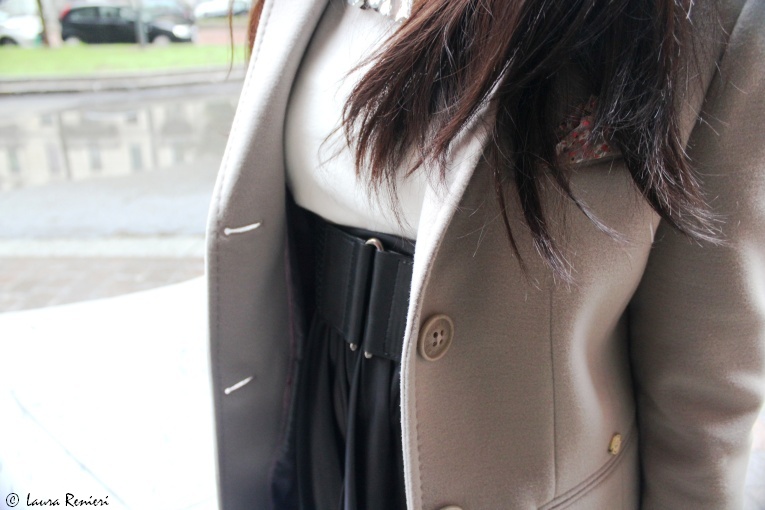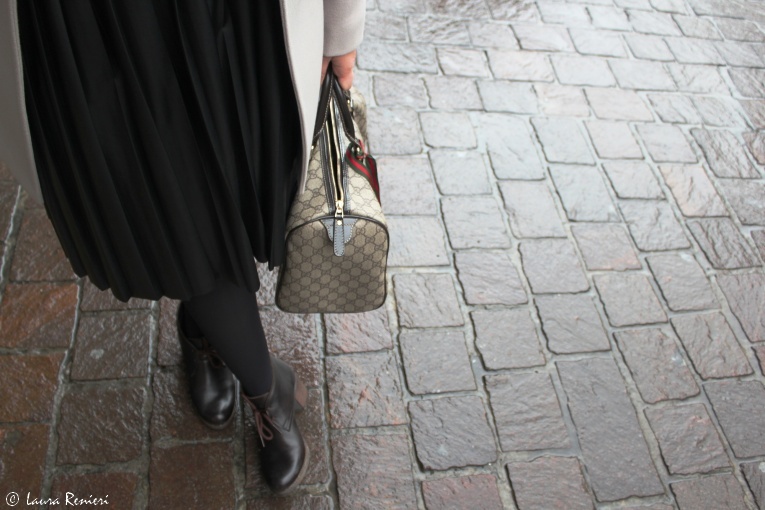 I was wearing
Coat Giorgia & Johns
Sweater Vero Moda
Belt no brand
Skirt Zara
Clock Casio
Necklace no brand
Bracelet Moschino
Collant Calzedonia
Bag Gucci
Umbrella Zara (old)
Make up
 Mascara L'Oreal collezione Cannes –  Lipstick Chubby Stick Clinique – Nail polish Essie
*Traduzione gentilmente offerta da Giulia: apprezzate il suo inglese che vi ha risparmiato la traduzione automatica di google!! Si ricorda, a titolo informativo, che non è stato usato photoshop!! Grazie!