One of this year's resolutions says "Try to innovate, change, be up to date". I'd say the idea is for this to apply to as many domains as possible, ranging from work to private life, from fashion to habits. Not that I want to abandon who I am and my style, if we can call it that, but I promised myself every time I go shopping not to limit buying just "the usual" but to introduce something new and quirky to my shopping experience
Uno dei miei buoni propositi di quest'anno recita "Cercare di innovarsi, cambiare, restare aggiornata". Diciamo che l'idea abbraccia davvero gli aspetti più disparati della vita, dal lavoro alla vita privata, dalla moda alle abitudini. Non che con questo proposito voglia abbandonare me stessa ed il mio stile, se così si può chiamare, ma mi sono ripromessa, ogni volta che vado in giro per negozi, di non limitarmi ad acquistare solo le cose "di sempre" ma di introdurre nella mia shopping experience anche un capo un po' "fuori tema"
That's how the purchase of this Zara military jacket came to be. A real camouflage uniform I thought would be left in a dark corner of my closet, far from my style (which we can sum up as "super buttoned up white shirt"), but no. Surprisingly, it's one of the pieces I always long to wear – during the weekend, of course. Perfect on jeans, for a Sunday with friends, breakfast and relax. The pairing came up just like this: Zara jeans, a tee from Banana Republic that's becoming a real staple for my looks, a warm cardigan by Desigual and at my feet a real challenging pair of shoes. On my wrist one of the vintage bags I love the most, with a 
Fay
bracelet and two other pieces from a brand I recently discovered: 
Chef Nick Creation
, here in the Berlino and Milano version
Fu così che in un pomeriggio da Zara acquistai questa giacca militare. Una vera e propria divisa mimetica che pensavo sarebbe rimasta confinata al fondo dell'armadio, lontana dal mio stile con "camicia bianca abbottonata fino in cima", ed invece no. Incredibilmente è uno dei capi che desidero di più indossare – nel weekend, of course. Perfetta su un jeans, per una domenica di amiche, colazioni, riposo. L'abbinamento è nato da sè: jeans di Zara, una maglia di Banana Republic che si sta rivelando un vero capo dai mille usi, un golf caldo firmato Desigual ed ai piedi un paio di tacchi – decisamente – impegnativi. Al polso una delle borse vintage che più amo, accompagnata da un bracciale di Fay e da due bracciali di un brand scoperto da poco: Chef Nick Creation, qui declinati nei modelli Berlino e Milano
Laura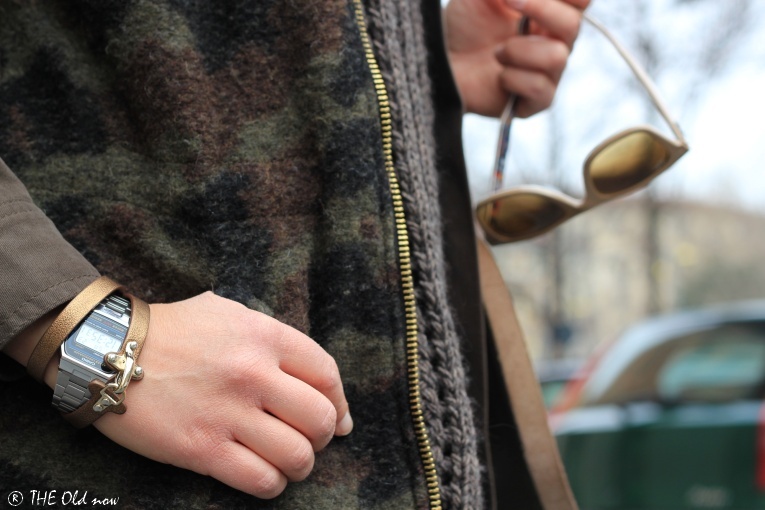 I was wearing
Coat Zara
Tee Banana Republic
Golf Desigual
Jeans Zara Trafaluc
Shoes Aldo
Clock Casio
Sunglasses Wayfarer Polarized by Ray-Ban
Necklace Mango
Bracelet Fay
Bracelet Chef Nick Creation
Bag Hermes
Fotografie
 Traduzione
Giulia – www.giuliaangolini.com
Hair & Make up
 Mascara L'Oreal collezione Cannes, Nail polish Chanel Rouge Noire
Hair made by Luciano Colombo, corso Magenta n. 66, Milano
Si ricorda, a titolo puramente informativo, che non è stato usato photoshop!! Grazie!