I have found out about its opening a few weeks ago, just before the opening of Expo and of all those new initiatives that turned Milan into such an international city. The brand Prada itself doesn't need any further introduction. However, this new space goes beyond what our imagination is used to link Prada with. It goes beyond, way beyond that. The fashion industry doesn't lead the space through bags and shoes, but through a different point of view; a point of view that Milan has been waiting to experience for a long time.
For the last two decades, Fondazione Prada's activities have analyzed intentions and relevance through an evolution of projects.
This is what you can read on the Fondazione Prada's brochure that you receive upon arrival, along with a € 10 entrance ticket that allows you to visit and to enjoy this new space located just a few meters away from the Lodi train station.
"What is the aim of a cultural institution?". This seems to be the main question that leads to understanding the real meaning of Fondazione Prada – located in Largo Isarco 2, Milan.
The main interest at the base of the Fondazione are the ideas that have been transformed into specific disciplines: literature, cinema, music, philosophy, art, and science. This new space has the aim of  increasing and boosting knowledge. Each field is developed independently and it follows one single goal: the coexistence of different disciplines that shape unpredictable cultural intersections.
Let's take a step back. The structure was built in 1910 in order to host a distillery; the building has been restyled and it now combines three new structures. This new project gave birth to a campus made of new yet industrial spaces alternating intimacy with opening, offering a common public space to the city of Milan. 
If you are visiting the Fondazione it will impossible to avoid spending some time chatting, reading or simply hanging out in this common area designed to host and welcome visitors.
The structure is made of a number of elements: the north side, the bookshop, the podium, the bar luce, the haunted house, the south side, the cinema, the cistern, the warehouse, and the tower. Old and new, horizontal and vertical, wide and narrow, black and white, open and closed: these contrasts design all the different elements that shape the nature of the new Fondazione.
Each building hosts different installations and art exhibitions. When you finish your tour (or before you start your tour, it is up to you), you can enjoy some refreshment at bar Luce – which has been designed by the director Wes Anderson. This place recreates the atmosphere of a typical Milanese cafe. It is the perfect place to enjoy breakfast, afternoon tea, and some relaxing time. Reminiscent of Italian popular culture, as well as of the aesthetics from the 1950s and 1960, are all over the place, with a special focus on interior design, floor, formica furniture, as well as veneered wood panels. The bar is meant to be a meeting point for those who are visiting the Fondazione as well as for those who wish tho explore the neighborhood: mission complete!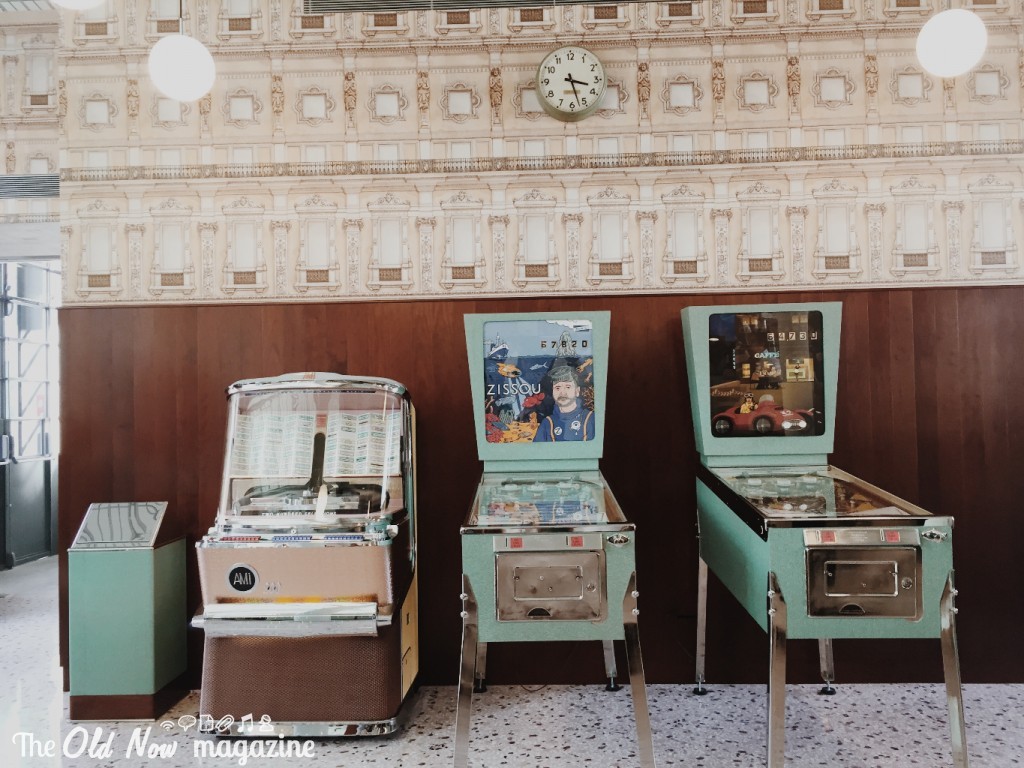 Fondazione Prada inspired me a sense of peace and fulfillment. Just a few places in Milan manage to inspire me these feelings. It feels like being in a new place, in a new Milan that opens its heart and its guts showing its best side; that is to say the love and attention for culture and art. I have seen a mix of people that leaves you breathless: families with children, artists, hipsters, and elder couples who are still willing to hold each other's hand. I have seen friends, loves, and lovers getting lost between history and future, curiosity and wonder, art and culture.
I am proud of this new place. As I was on my way back home I have promised to myself to come back and to visit it again. And this is exactly what I suggest you to do: come here and check this place out at least once in your life time.